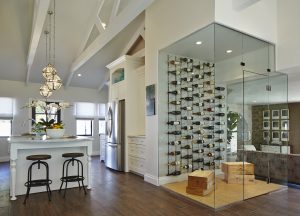 By Charlyne Varkonyi Schaub
City & Shore Magazine
Wine has become an integral part of our social life and our home design. Four South Florida design teams show us options can range from a corner of a room to climate-controlled wine rooms fit for a restaurant.
DESIGNER: MELISSA GUERRA
ARCHITECT: NOE GUERRA
PHOTOGRAPHER: ROBERT BRANTLEY
Some of the most creative ideas come from designer show houses. This see-through wine cellar from the 2015 American Red Cross Designers' Show House in Lake Worth displays the wine as a work of art while keeping it in a controlled environment.
Noe Guerra says they had to convince the clients to redo the structure of the residence, designed in 1925 by Addison Mizner protégée Sherman Childs. It took a month to raise the ceiling of the kitchen into the second floor and to open up the space to the family room. The climate equipment, accessible through a hatch door, is located beneath the floor. Double-paned glass and an insulated wall keep the temperature at 55 degrees. Controls are hidden in the walls. Structural silicone seals the joints.
"The design allows you to see through to the Intracoastal," Melissa Guerra says. "The clients like the idea of having a wine room but they didn't want us to block the view."
Wine storage can be placed anywhere, under the stairs or anywhere you can find space, she says. The best time to do this is during a remodel so you can find enough storage.
Read the original article here.